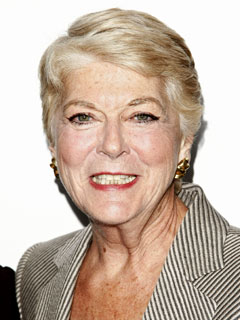 Geraldine Ferraro, who marked a significant moment in American history as the first woman vice-presidential nominee for a major party, died Saturday. She was 75.
Surrounded at the end by her loved ones at Massachusetts General in Boston, "Gerry," as she was known, had been battling cancer for more than a decade.
As presidential candidate Walter Mondale's running mate against Ronald Reagan and George H.W. Bush in 1984, Ferraro was a surprise gambit ? something like Sarah Palin in 2008, if politically a different animal. ("Modern life is confusing," she said. "Make no Ms.-take about it.")
A little-known New York State congresswoman, she also was the first Italian-American on such a prominent ticket. (First-generation, as well.) Accepting the nomination, she announced, "I stand before you to proclaim tonight: America is the land where dreams can come true for all of us."
With her short blonde hair swept up in a sort of more mature Dorothy Hamill crop, a confident stride and a personality that was both sunny and salty, she brought tantalizing fresh air into a campaign dominated by traditional male power players in traditional well-cut suits. The election nonetheless resulted in a landslide for Reagan.
It didn't help that Ferraro lost ground for the ticket as she became mired in allegations about taxes and the finances of her husband, businessman and real-estate developer John Zaccaro.
It was these same finances that were alluded to in Barbara Bush's notorious description of Ferraro: "I can't say it, but it rhymes with rich." (Bush later apologized.)
Other Campaigns
Ferraro remained a visible figure on the political landscape through the rest of her life, but she never really built on her 1984 role: She failed in two attempts to be nominated as the Democratic Senate candidate for New York.
It was after her second loss, in 1998, that she was diagnosed with multiple myeloma, a blood cancer. The original diagnosis gave her only a few years to survive, but she kept on. "What are my sources of strength? My husband and my three kids [Donna, Laura and John Jr.], my health-care team, and my religion," the Catholic Ferraro once wrote. "My desk drawer is filled with all kinds of prayers."
Another lifelong source of inspiration had been her widowed mother: Even after her marriage to Zaccaro in 1960, she kept "Ferraro" as her name as tribute to Antonetta, who had supported the family on $2.50 an hour as a crochet beader in the Bronx.
"When I was a kid," Ferraro once said, "my mother wanted me to have everything every other kid had, and she couldn't afford to. So what do you do? Do you walk around and say 'I want, I want, I want?' Or do you make do? Maybe the reason I got where I am today is that in school, in my work, in Congress, I worked harder than anybody else."
Even though the 1984 victory eluded her, Ferraro changed American politics: "No one asks anymore if women can raise the money, if women can take the heat, if women have the stamina for the toughest political campaigns in this country," Judy Goldsmith, then-president of the National Organization for Women, said in PEOPLE. "Geraldine Ferraro did them all."
But the White House would have been wonderful, too. "Vice president," Ferraro said, "it has such a nice ring to it."
'); var targetVideoWidth = 466; brightcove.createExperiences(); /* iPhone, iPad, iPod */ if ((navigator.userAgent.match('iPhone')) || (navigator.userAgent.match('iPad')) || (navigator.userAgent.match('iPod')) || (location.search.indexOf('ipad=true') > -1)) { document.write('